A message from the Council says:
"As part of the Royal Greenwich Residents' Rainbow, eight impressive art pieces from local artists are on display near our rainbow wishing trees until Saturday 26 September.
Head down to your nearest wishing tree one evening to witness the light installations and beaming rainbow hues that bring the tree to life, and showcase the heartfelt thoughts from residents printed onto the colourful ribbons."
The tree next to the library at Blackheath Standard is lovely and well worth a visit especially in the evening.  The tree is a wishing tree with each ribbon showing a message of hope, love and kindness.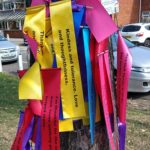 The giant flag containing the word wisdom is called "Re-start" has been created by artist Manuela Benini.  Is is dedicated to the site next to Blackheath Library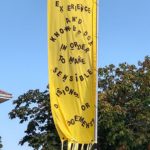 If you can't make it you can watch a video of the lightshow here