The Westcombe News was first published in June 1973.
Links to issues published since 2012 can be found HERE.
A copy of the 1973 issue came to light a few years ago, courtesy of the Greenwich Phantom.
Today the Westcombe News is produced monthly 10 times a year. Over 4,000 copies are distributed free to all homes in the Westcombe Park area and to local libraries and some businesses.  Apart from printing, the cost of which is covered by advertising (see below), all this is done by unpaid volunteers.
(Members who live outside the Westcombe News distribution area are advised that copies can be obtained by post if they submit ten, large, A5, stamped, addressed envelopes to Marilyn Little, 163 Westcombe Hill,  London SE3 7DP.  We also publish PDF* versions of  all editions here for those who do not have access to paper copies.)
It is a lively newspaper covering Westcombe Society News and events, local articles and other news items which affect our area. Our editor Anne Williams encourages input from local residents (young and and not so young) on items of interest (or concern) to them. The paper is very much a joint effort with you, the public, and our editoiral team.  Anne appreciates the work done by everyone involved in writing, producing and editing.  Please send letters, articles and anything else you would like considered for publication to Anne Williams at wnews@westcombesociety.org
We try to promote local causes and businesses and strive to keep our local area vibrant and forward looking.
The cost of producing the paper is met by the advertising.  We advertise local businesses and services to over 4,000 readers, in the Westcombe Park area and beyond.
To advertise in the Westcombe News please email the Advertising Manager on advertising@westcombesociety.org  or telephone Marilyn Little whose number can be found on page 2 of the Westcombe News.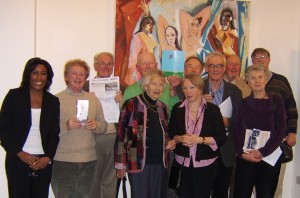 In November 2005 the Westcombe Society was the winner of the Walter Bor Media Awards Class Category 1 (Newsletter) for the Westcombe News and has been regularly commended ever since.  These awards are for publications by local community groups and are sponsored by Walter Bor (Walter George Bor 1916 – 1999 who was an Austrian-born British town planner and architect who was very influential in the development of new towns in the UK and elsewhere). The Awards are organised by the London Forum of Amenity and Civic Societies of which the Westcombe Society is a member.  The Westcombe News is the only newsletter nominated that serves the whole community rather than just the members of a Society – something of which we are very proud.
More recently, we were pleased by a more local accolade by a sister publication in Greenwich, Greenwich Visitor, which has a section called Nelson's Column, edited appropriately enough by "Horatio". In June 2013, Horatio wrote: "Congratulations to the Westcombe News, a small but perfectly informed community paper here that has just turned 40. It wouldn't be wrong to say that it helped to inspire the launch of Greenwich Visitor. Its mix of interesting material, useful super-local news, events and community advertisers shows printed paper remains as vital as ever."
We are extremely pleased to have had the Westcombe News recognised in this way.
If you are interested, the Westcombe Park/Shooter's Hill area was also referred to in this Guardian article in late October 2007.