The Westcombe Society Environment Committee
We are a small, non-political group made up of volunteers of differing backgrounds who work together with the broad aim to maintain and enhance the local environment and Conservation Area.
Come and join us!
If you have an interest in the Westcombe Park environment, or in planning issues, and are interested in finding out more or joining us, our email address is environment@westcombesociety.org – we would love to hear from you.
What do we do?
We scrutinise planning applications both big (e.g. the Olympics and the John Roan School) and small.  In some cases we submit comments and attend meetings to address the Greenwich Area Planning Committee or Planning Board about our concerns and/or those of other local residents.  Our opinions are sought by the Council with regard to local planning strategy and we have good working relations with all our Ward Councillors.
We help to promote and protect green areas and trees.  We actively monitor and comment on proposals for large events (e.g. London Marathon, the annual Firework display and events in Greenwich Park), developments and other planning/licencing applications or events that affect Westcombe Park residents.
We comment and lobby for improvements to transport and parking.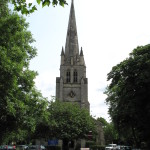 With the help of the Greenwich Society and Charlton Rail Users' Group we were recently active in promoting and setting up GLUG, Greenwich Line Users' Group.  Our opinions are sought by the Royal Borough of Greenwich with regard to local planning strategy, including roads, parking and public transport.
We also help organise working parties for large developments, to facilitate dialogue between all parties involved.   We were actively involved in the Woodlands Working Party when new flats were being built next to Mycenae House and were involved in bringing together residents, schools and the developers to discuss issues affecting residents during the redevelopment of three school sites in our area.
We work with, and sometimes participate in, other local organisations including:
Blackheath Historic Buildings Trust
Blackheath Society
Greenwich Planning Alliance
Greenwich Safer Parks Panel
Safer Neighbourhood Panel
Up to date information can be found on the submenus at the top of this page or as follows: